How to prepare for your new kitten
When a kitten first arrives to her new home she is likely to be nervous and unsure of her surroundings. Due to travel stress her immune system may be weakened as well. We therefore recommend a quarantine period of at least 7 days. She will need a small room, such as a bathroom, where she can slowly explore and get to know her new owners. Quarantine can end after 7 days and after she has been seen by a vet and been given a clean bill of health.
Prior to bringing your kitten home I recommend having:
Litter box and scooper
Litter (consider using pelleted horse bedding from tractor supply, it is very affordable and manages odor well). Your kitten will be used to the pelleted bedding when she arrives. If you want to change her to a different litter please transition her gradually, by slowly mixing in more of the new brand over time.
A high-quality, grain-free dry cat food. Orijen and Evo are the dry food brands that I have found to be the best quality. These are the foods your kitten will be used to. If transitioning her to a new brand please do it gradually so as to avoid diarrhea.
Please also provide wet food like Weruva, or another high quality, human-grade brand. Wet food is important to your cat's long-term health because it provides additional moisture. I mix water with my Weruva to add even more moisture into their daily diet. Many cats develop kidney problems from eating only dry kibble for years.
A soft cat bed to sleep on. Try to pick something out that is easy to clean (washing-machine safe).
A scratching post
Food and water bowls
Consider a carpeted cat tree (these are really popular with all of our cats). While your kitten is young and reckless, consider placing it on a carpeted surface to avoid falling injuries (kittens have hurt themselves falling off of a cat tree onto a hard surface).
Consider CritterCord Cord Protectors to protect cords and wires that are hard to conceal
Sturdy cat toys that cannot be easily chewed and swallowed. Below are some good examples: The ball-in-track, "crinkle" balls, springs, canvas-sewn catnip toys, catnip kicker sticks. I will try to send you home with a mylar wand toy. This is an easy wand to ship. I buy a lot of them at cat shows. Wand toys or fishing line style toys are excellent for getting the energy out of a little, ornery kitten who isn't ready to go to sleep when you are. Perhaps the best version of this toy we've found is a dressage horse whip from tractor supply - all of our Savannahs love to chase it! The whips last a really long time and, unlike other fishing-rod-like toys, the dressage whips don't have a long string they could ingest.
If you're interested in leash training, consider buying a Hyendry security walking jacket. These are designed to be extra secure by using both velcro and buckles.
"Crinkle" balls
Catnip "kickers"
Dressage whips
Catnip fish toys
Ball-in-track toy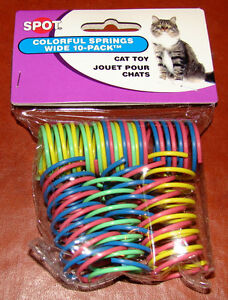 Spring toys
Mylar cat wand
Hyendry walking jacket